On Tour with
Prism Book Tours
.
The Firefighter's Refrain
(Those Marshal Boys, #3)
by Loree Lough
Adult Contemporary Romance
Paperback & ebook, 368 pages (large print)
May 1st 2016 by Harlequin Heartwarming
He's a man who wants it all…if only he could have it....
Dreams of stardom took musician and firefighter Sam Marshall far from his Colorado roots. Starting fresh in Nashville hasn't been easy, especially after an injury on the job, but he's working his way to the Grand Ole Opry one open mike at a time, teaching at the fire station to make ends meet. Yet Sam's intentions are shaken when he meets the lovely owner of a local café. Suddenly, Sam's dreams are filled with her. Too bad that as the daughter of country-music wannabes, Finn Leary's been there, done that. She'll never choose a musician. So how can Sam possibly get the girl and keep the guitar?
Goodreads
│
Amazon
│
Barnes & Noble
│
Harlequin

My Review


It's a sweet romance, clean, romantic, a very enjoyable read.
Sam is a firefighter with a great passion for music. His dream is to have a contract and become a professional. But everything changes when he meets Finn. She has lost her family and must grow her sister alone. She hates people like Sam who want to succeed in music, her parents were so. Sam is really in love with her and will have to decide between his passion for music and his heart.
The two protagonists are really amazing. Sam is fascinating, strong, protective. He's a rock to hold on in difficult times. Finn is a wounded woman, bitter, full of responsibility. She doesn't open her heart to anyone but maybe Sam is the key for her tastes.
It's the first book I read of this series and can be read as a stand alone, I had no problems.
This is a well-written novel that grabbed and held me from page one. Good plot, lovable characters and a sweet ending. I could only put it down with great difficulty.
If you love clean and romantic stories this book is perfect for you.
Other Books in the Series
(Those Marshal Boys, #1)
by Loree Lough
Adult Contemporary Romance
Paperback & ebook, 377 pages (large print)
February 1st 2015 by Harlequin Heartwarming
Does she even need a hero?
Summer Lane is no damsel in distress. For the past two years, she's been battling her way back from her worst nightmare, all by herself. So she doesn't need the fabulous former Marine Zach Marshall swooping in to save her.
But she needn't worry. Zach has hung up his shining armor. His instinct to rescue has only brought him heartache, and he's not about to risk it all again--even though everything about Summer makes him yearn to help.
Will she accept his challenge to step up and conquer her fears on her own--even her deepest fears, like trust...and love?
(Those Marshal Boys, #2)
by Loree Lough
Adult Contemporary Romance
Paperback & ebook, 385 pages (large print)
September 1st 2015 by Harlequin Heartwarming
He can say no to everyone but her...
Nate Marshall used to be a yes-man... until being so agreeable cost him dearly. But Eden Quinn has a way of getting him to reconsider his "just say no" policy. Which is how a bunch of troubled teens end up at his ranch for the weekend. Nate can't help but be attracted to the woman who keeps them in line.
This cowboy knows Eden's no damsel in distress, yet hers isn't a one-woman job. If she must do everything on her own, how can he help her... let alone get her to fall for him?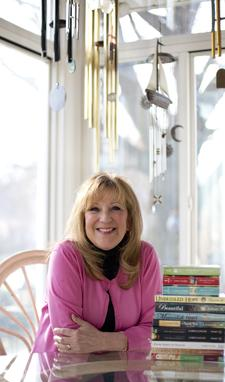 Bestselling author
Loree Lough
once sang for her supper, performing across the U.S. and Canada. Now and then, she blows the dust from her 6-string to croon a tune or two, but mostly, she writes novels that have earned hundreds of industry and "Readers' Choice" awards, 4- and 5-star reviews, and 7 book-to-movie options. Her 105th book, Sweet Mountain Rancher, #2 in "Those Marshall Boys" series for Harlequin Heartwarming, released in August, 2015. Also new on the Latest Release list, Guardians of the Heart, (#2 "Secrets on Sterling Street historical series from Whitaker House). Next up, Healing of the Heart, #3 in the "Secrets" series…and a brand new 3-book series for Harlequin Heartwarming, releasing between 2016 and 2017. Stay tuned for more in 2016 and beyond!
Tour Giveaway
ONE WINNER will receive a $25 Amazon gift card and
The Firefighter's Refrain
(signed print if US, ebook if outside US)
ONE WINNER will receive Those Marshall Boys Series,
Once a Marine
,
Sweet Mountain Rancher
, and
The Firefighter's Refrain
(signed print if US, ebook if outside US)

ONE WINNER will receive The Firefighter's Refrain (signed print if US, ebook if outside US)
Ends May 20th