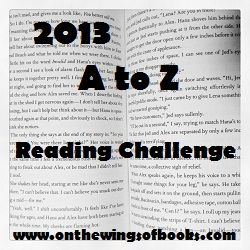 The purpose of the A to Z challenge is to read through the alphabet by Title or by Author,or both if you're really ambitious!
The rules:
Author must be by last name
You may exclude a, an and the from the title
Books can be in any format
Books can be any genre
Books can be used in other challenges
Books must be read from January 1, 2013 to December 31, 2013 (books maybe started in December 2012, as long as it's finished in January 2013)
Review the book that you've read. It does not have to be a full review, a sentence or two on Goodreads is more than sufficient.
At the end of the year I will select two winners.
Prize #1 – One book up to $10 from Amazon or The Book Depository

Winner will be selected at random from list of all participants

Prize #2 – One book up to $15 from Amazon or The Book Depository

Winner will be selected at random from list of participants who

completed

the challenge (if you complete both the author and title challenge you will receive two entries)
A
B
C
D
F
G
H
I
J
K
L
N
O
P
Q
R
T
U
V
W
X
Y
Z